Eagle Pair takes home Blue Ribbon in the Florida Trail Association Photo Contest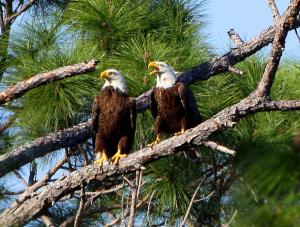 Photo: Eagle Pair Squawking First Place in at FTA 2011 Annual Conference!
I am honored to announce that the photo "Eagle Pair Squawking" was awarded First Place in the category of Good Nature by popular vote at the 2011 Annual Florida Trail Association Conference. This photo was taken while hiking the Florida Trail at St.Marks National Wildlife Refuge in Wakulla County, Florida. My son and I were admiring the birds in the marshes along the trail when we noticed a Bald Eagle flying over head. We watched as he settled on a branch with his mate and started squawking. The eagles were at home and we were able to get several shots of this majectic looking pair before we continued on down the trail.